Patriot Streetfighter (Scott McKay) – POWERFUL Interview W/ Thrive Time's Clay Clark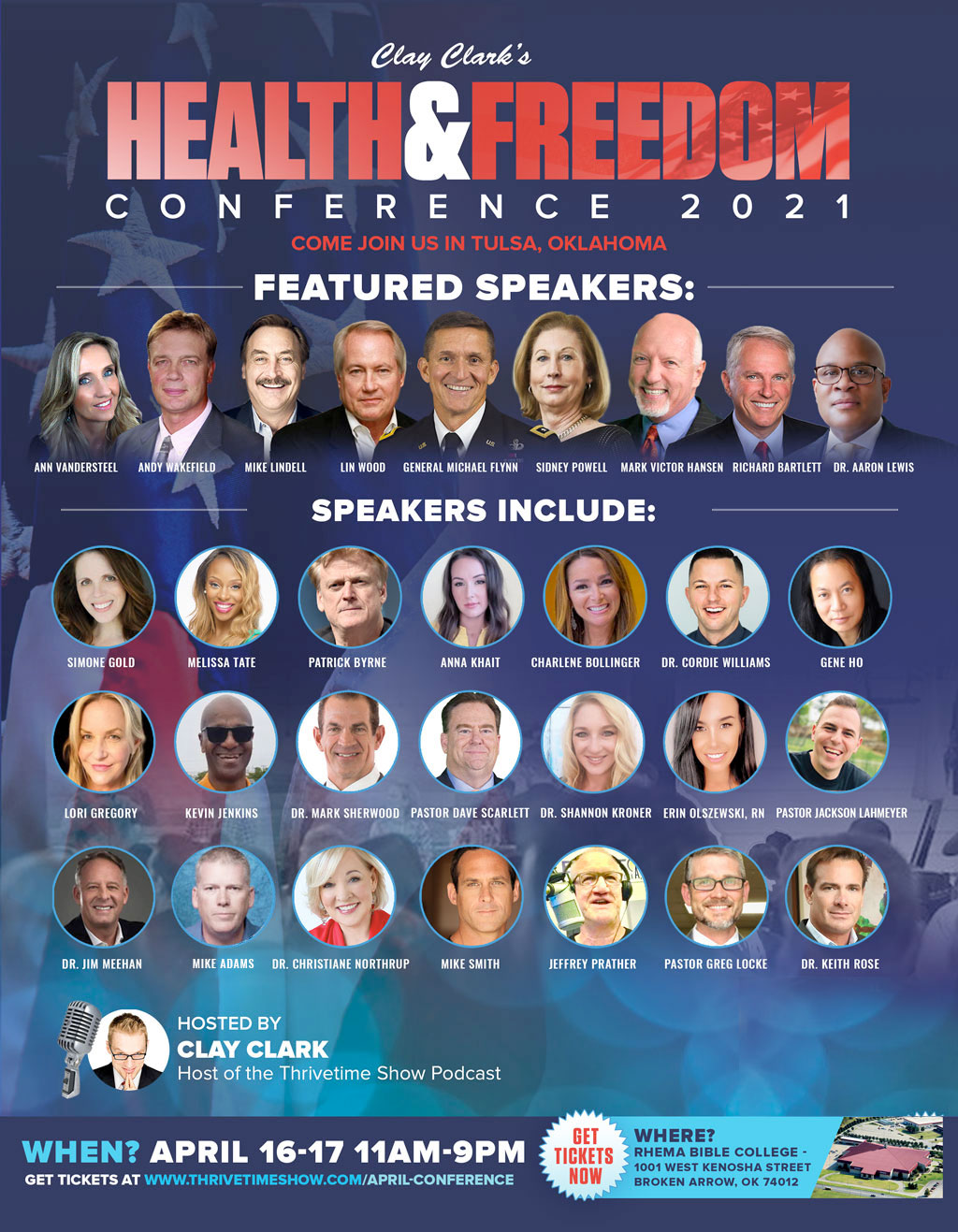 Scott McKay is known as the "Patriot Streetfighter" on Rumble.com, Bitchute.com and on Telegram.com. He hosts interviews with various guests on contemporary topics of interest to those who have been red-pilled and understand the present opportunities for patriots who support the Constitution and Common Sense self-governance.
Clay Clark (of the ThriveTimeShow.com) was his guest in this episode; an amazing expert on the vaccines, the Rockefeller Plan and how to gain confidence that patriots are doing the right thing in educating others in our communities to the risks being imposed by the policies of current political powers. Clay's clear, linear step-by-step explanations (with reference materials and links to sources) will help anyone who wishes to learn more and take positive action to maintain and expand freedoms within the America we are now living in. Clay's other links and content can be viewed here: https://timetofreeamerica.com/ | https://www.bitchute.com/video/FAcL6YaMhMJN/ | https://youtu.be/d8PChwiqwZg
Clay has also coordinated a Medical Health & Wealth Freedom Conference for Patriots (https://www.thrivetimeshow.com/april-conference/) with guests like Mark Victor Hansen, Christiane Northrup, M.D., Sidney Powell, Mike Adams, Patrick Byrne, Gene Ho, Mike Lindell, Anna Khait, Lin Wood, Charlene Bollinger (Truth About Cancer), Andy Wakefield, Ann Vandersteel, Lori Gregory, Dr. Jim Meehan, General Michael Flynn, Dr. Keith Rose, Pastor Dave Scarlett, Pastor Greg Locke, Pastor Jackson Lahmeyer, Dr. Mark Sherwood, Kevin Jenkins – Urban Health, Nurse Erin Olzewski, RN, Dr. Cordie Williams, Dr. Shannon Kroner, Dr. Aaron Lewis, Simone Gold, MD, JD, Fabem, Dr. Richard Bartlett, Mike Smith, Jeffrey Prather, Melissa Tate. (see the speaker's bios below the video)
---
MARK VICTOR HANSEN
An American inspirational and motivational speaker, trainer and author. He is best known as the founder and co-creator of the Chicken Soup for the Soul book series
ANNA KHAIT
Anna Khait is a born-again Christian conservative.
Originally born in the Soviet Union, Anna became a world traveling professional poker player and was featured as a contestant on the CBS television show Survivor in 2016.
Her passion is teaching hungry spirits the love and wealth of knowledge that springs forth from having a relationship with God.
LIN WOOD
The iconic freedom fighting attorney
CHARLENE BOLLINGER
Charlene Bollinger is an actress and producer, known for The Truth About Cancer (2014) and From Jail Cell to Stem Cell: the Next Con for the Ex-Con (2020).
ANDY WAKEFIELD
The Doctor turned truth-telling medical freedom activist and film producer
ANN VANDERSTEEL
Investigative journalist and host of the SteelTruth
LORI GREGORY
Film producer and media executive behind 7th Chakra Films
DR. JIM MEEHAN
Leading Oklahoma medical Doctor whose COVID-19 protocols have successfully treated Americans throughout the United States.
GENERAL MICHAEL FLYNN
Michael Thomas Flynn is a retired United States Army lieutenant general, who was the 25th United States National Security Advisor for the first 22 days of the Trump administration until his resignation.
DR. KEITH ROSE
Dr. Keith is an internationally recognized surgeon and tactical medicine physician.
PASTOR DAVE SCARLETT
Pastor Dave Scarlett is the host of the His Glory Show with past guests including: General Michael Flynn, Lin Wood, General Thomas McInerney, etc.
PASTOR GREG LOCKE
Pastor Greg Locke is an outspoken and unashamed pastor and teacher of the Gospel of Jesus. He refuses to bow to the politically correct idols of our culture.
PASTOR JACKSON LAHMEYER
Pastor Jackson Lahmeyer is a business Owner, a pastor and a Prospective Candidate for the United States Senate
DR. MARK SHERWOOD
Mark Sherwood, Naturopathic Doctor (ND) and Michele L. Neil-Sherwood, Doctor of Osteopathy (DO), have a full-time wellness-based medical practice in Tulsa, OK called the Functional Medical Institute where they adopt a whole person approach, which is outcome based looking at each individual's unique needs. Their goal is to lead people down a pathway of true healing. To that end, there are two purposes: 1. To eradicate all self-imposed, choice driven disease conditions, and 2. To eliminate the usage of unnecessary medications. Through their unique clinic, various diagnostic tests are used, healing and prevention of common disease patterns are the norm.
KEVIN JENKINS – URBAN HEALTH
Kevin is a passionate and powerful speaker, and a career champion for human rights in the black community, he's the founder of Urban Global Health Alliance which is on a mission to educate, un-indoctrinate and empower urban communities and their leaders to create effective public policy that safeguards rights of equality, as Kevin often says "building healthy bodies creates healthy communities". Kevin has also become a truth warrior and is out to level the playing field and expose the hidden agendas, lies, corruption and versions of truth and continuous divide and conquer psyops that oppress society and the world today now more than ever. Kevin's voice and message of awareness and action to defeat modern day slavery's infectious and resonates truth and authenticity, something that's extremely rare today.
NURSE ERIN OLZEWSKI, RN
DR. CORDIE WILLIAMS
Dr. Cordie Williams is also a US Marine, a professional speaker, full-time Father, Husband, and Patriot. During the tyrannical shutdowns in California, Dr. Cordie felt his Constitutional Rights, and the rights of so many other Americans were being violated. So, Dr. Cordie picked up a megaphone and began speaking up at protests all across California. 1776 Forever Free is holding Freedom Rally's all across America for the next few months. Dr. Cordie's common-sense message at the state capitol in Sacramento resonated so much that it went viral receiving more than 15 million views, and that is where he got his nickname the "Megaphone Marine". Emboldened by government overreach from the state of California, Dr. Cordie also teamed up with the Recall Gavin 2020 Movement and hosts a weekly online Townhall where they discuss how to get rid of this tyrannical leftist Governor.
DR. SHANNON KRONER
Dr. Shannon Kroner has a Doctorate Degree in Clinical Psychology and a Master's Degree in Special Education. She has been working with children with developmental disabilities and learning disorders since 2001. Dr. Kroner has been actively fighting for parents rights against restrictive legislation in California since 2015. In 2019, following the removal of medical vaccine exemptions in California, Dr. Kroner decided it was time to fight for freedom on a national level and created the non-profit organization, Freedom Of Religion – United Solutions (FOR-US). Through FOR-US, Dr. Kroner has built an interfaith coalition of religious leaders who are uniting to protect religious freedom and the religious vaccine exemption.
DR. AARON LEWIS
Dr. Lewis is an award-winning leader, a helper, and a speaker with a visionary message which he breathes and lives as a relentless human rights activist. The persistent drive for betterment and growth in his own life led Dr. Lewis to instill the same meaning of education in others as the founder of the Scribe's Institute, where Greater Hartford children get the chance to jumpstart their lives from a higher perspective by mastering reading and writing, STEAM, and foreign languages.
SIMONE GOLD, MD, JD, FABEM
"The Doctor Who Went Viral," is a board-certified emergency physician, Stanford University educated attorney, a mom, the founder of America's Frontline Doctors, and author of the best-selling book "I Do Not Consent: My Fight Against Medical Cancel Culture." Dr. Gold is America's leading voice of common sense and scientific clarity in the fight against COVID-19 and the disinformation propaganda of the corporate medical establishment and mainstream media.
DR. RICHARD BARTLETT
A former top medical advisor for the Governor of Texas, and pioneer of effective outpatient therapy for COVID-19.
MIKE SMITH
Truthteller, creative director, and creator of the epic "Out of Shadows" movie.
JEFFREY PRATHER
Jeffrey Prather is a master martial artist, retired Army major, Ex-DEA Special Agent, and DIA Officer targeted by the deep state, turned whistleblower, repurposed as a chaplain, teacher, and truth-teller.
MELISSA TATE
A successful Christian entrepreneur, conservative activist, and the author of Choice Privilege with millions of social media followers worldwide.
MIKE ADAMS
The founder of Brighteon and the host of The Health Ranger Report and the creator or NaturalNews.com
PATRICK BYRNE
Patrick M. Byrne is an American entrepreneur who is the former CEO of Overstock.com. In 1999, Byrne launched Overstock.com after leading two smaller companies, including one owned by Warren Buffett's Berkshire Hathaway.
CHRISTIANE NORTHRUP, M.D.
A visionary pioneer and a leading authority in the field of women's health and wellness, which includes the unity of mind, body, emotions, and spirit. Internationally known for her empowering approach to women's health and wellness, Dr. Northrup teaches women how to thrive at every stage of life.
SIDNEY POWELL
Former federal prosecutor and patriot who was lead counsel in more than 500 federal appeals
GENE HO
Trump's Personal Campaign Photographer 2015 – 2016 and Best Selling Author of "TRUMPography."
MIKE LINDELL
Michael James Lindell also known as the "My Pillow Guy," is an American businessman, and the CEO of My Pillow, Inc., a company he founded in 2009.