Health Freedom Summit Opening Feb. 15th -17th 2021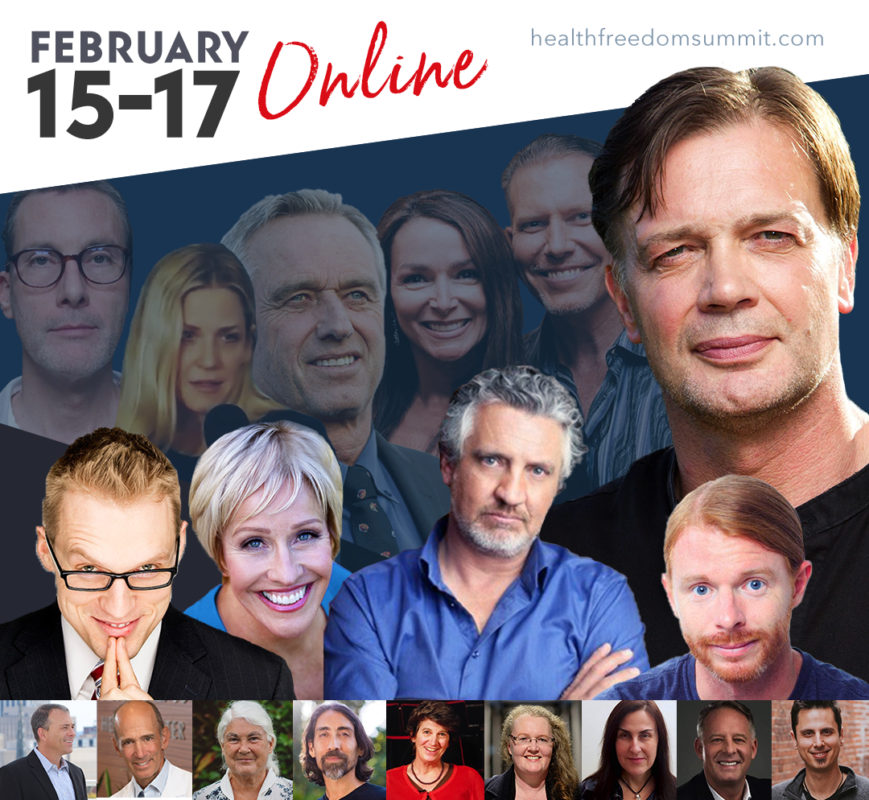 You have to attend this online Health Freedom Summit!!
30+ of the nation's true health experts, front-line journalists, and legislators sharing practical strategies to strengthen our health, freedom, and sovereignty.
Meet the Health Freedom Team: including a Marine Vet, CVICU Nurse, Community Activist Extraordinaire– plus two (baby + unborn) of our 21 combined children.
By Attending The Health Freedom Summit You Will:
Develop a true understanding of the plandemic as renowned doctors and scientists make connections and reveal agendas you won't hear on the news.
Gain activist training to successfully influence your local and online community and defy censorship.
Learn to legally protect yourself from forced vaccinations, mask mandates, and other forms of medical tyranny.
Get uncensored updates from names you trust while discovering new and important front-line voices.
Enjoy comic relief by America's favorite red head, JP Sears—because laughter really might be the best medicine.
2021 HEALTH FREEDOM SUMMIT PRESENTERS INCLUDE:
Robert F. Kennedy Jr.
Andy Wakefield
Del Bigtree
JP Sears
Dr. Paul Thomas
Erin Elizabeth
James Corbett
Dr. Sherri Tenpenny
Dr. Sucharit Bhakdi
Dr. Joseph Mercola
Reiner Fuellmich
Jennifer Bilek
Megan Lubbers, RN
Eliz Fulop
Brandon Amalani
Dr. Anthony Phan
Sayer Ji
Leah Wilson
Ty + Charlene Bollinger
Peggy Hall
Dr. Jim Meehan
Mary Holland Esq
Polly Tommey
Ronni PeckLisa Suski
Dr. Stephanie Seneff
Dr. Margaret Griesz-Brisson
Eddie Stone
Mya Olson
Dawn Richardson
Professor Dolores Cahill
Clay Clark
Larry Cook
Dr. Nick + Andrea Gauthier
Yvette Bronx
Katherine Duran
Andrea Ebert
Samantha Allen
Fr. David Nix
Bishop Strickland
Fr. Trevor Burfitt
Dr. James Lyons-Weiler
Former Senator Ted Harvey
Senta Depuydt
Better than a shot in the arm: forty speakers you need to hear before you put your health in the hands of Bill Gates.